Review of "Europe's leading talent conference for entrepreneurship and innovation"
17 – 18 th April, University of St. Gallen
"From innovation to disruption" was the main topic of the START Summit 2015 this year.
Over 600 participants from 53th countries traveled to the "Hot Spot" conference in St. Gallen.
2 days of innovative thinking, networking, interacting in workshops, a Code Jam, recruiting speed dating, meet the investor pitches, fintech podium panel and many interesting speeches from speakers all over the world mixed with a shot of bar-crawling, Start Dinner and the Final Afterparty.
This was the START Summit 2015.
We want to send many greetings and the best thankful wishes to the organization team of the University of St. Gallen – powerfully acting students with the heart of entrepreneurship!
In our short open-minded review we want to express the most interesting points you missed.
So take care and set the next event in autumn 2016 in St. Gallen in your calendar now!
SAP CODE JAM
This was a 6 hour hands-on coding and networking event on the first day of the summit, where attendees collaboratively developed platforms and tools in a fun and casual environment using SAP technologies. Students with different backgrounds shared their experiences and learned from each other. Focus: All about "design thinking" with the Business Model Canvas to turn ideas into reality.
MEET THE INVESTOR and START COMPETITION
Over 90 participating startups and founders got the unique chance to pitch their ideas to the attending investors. In two to three minutes they got the opportunity to convince the investors of their business idea before moving on to the next investor. After every session the investors took a vote, which of the startups they want to see again in the final
Start Competition. The best five of these voting winners took part in the final competition.
We are proud to show you an exclusive interview with the founder of the winning startup,
equippo, Michael Rohmeder, tomorrow! 2nd place: Fintech Advanon, 3nd place: computer-sharing help service Expertiger, 4nd place connecting fitness center service Gymhopper from CH, and 5nd place the service Weathharc, which helps wealth managing companies with document translation.
FINTECH PANEL DISCUSSION
Topic: Disrupting banking in times of new technologies and ongoing digitalization
Nektarios Liolios (MD Startupbootcamp Fintech), Marc P. Bernegger (Fintech Investor), Alexander Graubner-Müller (Co-Founder Kreditech) and Holger Spielberg (MD Digital Priv. Banking Credit Suisse) took part in this panel. We tried to get most of the important facts and points from this exciting Fintech panel discussion in our live report from saturday. We will publish it in the next hours.
STARTUP BOOTCAMP
On Saturday Nektarios Liolios, initiator of Startupbootcamp worldwide, gave startups the possibility to talk to him about ideas, visions, dreams and problems. Nektarios also took 20 minutes of his time for an interview with our plattform. Results will be published in the next months.
STARTUP SPEED-DATING / Pfalzkeller St. Gallen
This event was receiving help from students of the ETH university Entrepreneurship Club Zurich
to realize this cool come together the first time in co-working between this university's.
25 startups got the chance to talk to potential interested students, who want to work in the startup world in the future.
SPEECHES AND WORKSHOPS
Our Highlight especially from:
Dr. Rose Luis Cordeiro
– Futurist Massachusetts Institute of Technology –
It was a very futuristic speech and one of my personal highlights of these years Summit.
Dr. Rose Luis Cordeiro was born in Latin America and educated in Europe and North America. He has studied, visited and worked in over 130 countries in 5 continents.
He received his B.Sc. and M.Sc. Degrees in Mechanical Engineering, worked with the United Nations Industrial Development Organization (UNIDO) in Vienna and with the Center for Strategic and International Studies (CSIS) in Washington, DC and much more famous instituts.
He hold an amazing speech about the future of the modern world. He tried to explain the change and the developing of our everyday life. In 2017 there will be internet in every part of these world.
It will give us all new possibilities to take part in very big markets. Human roboters will be produced in Japan, Tokyo very soon to life together with the human being, because in asia the culture recognized the robots already as the good ones. In addition to that most of human being who are living in the western world don't share this point of view. In their opinion roboters could be dangerous, if they get to much modern technology in their "roboter brain chips".
Furthermore the way of living will change completely. The future of thinking will be the brain 2 brain communication. It will change everything. Speaking together will be not longer neccesary in the future, because it's to slow to share information. It's an old technologie in the future.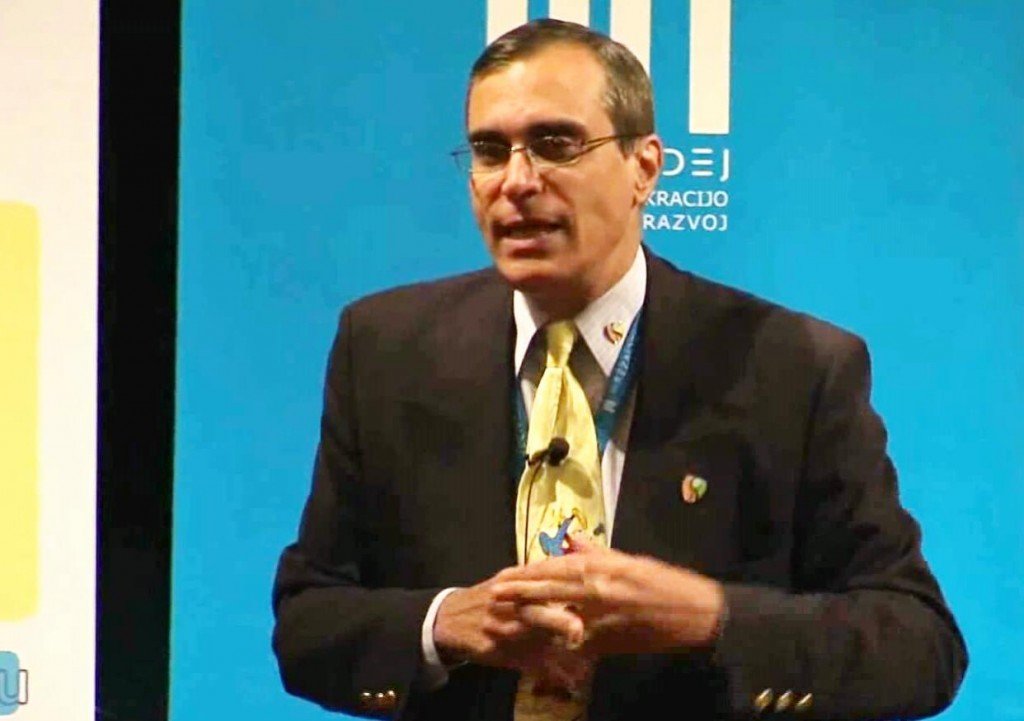 Furthermore there were so many other great speeches where we couldn't take part in – speakers like Omid Scheybani (Google inc) who gave a look into the future of the company, Ryo Umezawa (CEO Hailo) who told about his success with his famous taxi app in the asian market, Todd Embley (Chinaaccelerator) who gives an overview how to get in the asian market, which was one of the main topics of the first day of START Summit 2015. Moreover Christopher Ax (CEO Schmatz Japan) who gets his experiences from working for Rocket Internet in Mexico and New York, with a stop in Hong Kong, told about how and why to start ventures in Tokyo, Japan – to sell Currywurst and Sauerkraut on japanese farmer's markets. Moreover there were amazing speeches from Dr. Alfred Gusenhauser (Chancellor of Austria a.D), Dalton Caldwell (Partner at Y Combinator), Joerg Rheinboldt (Axel Springer Plug and Play), Daniel Gutenberg (Partner at VI Partners) and Alexander Graubner-Müller (Co Founder Kreditech).
Newsletter abonnieren